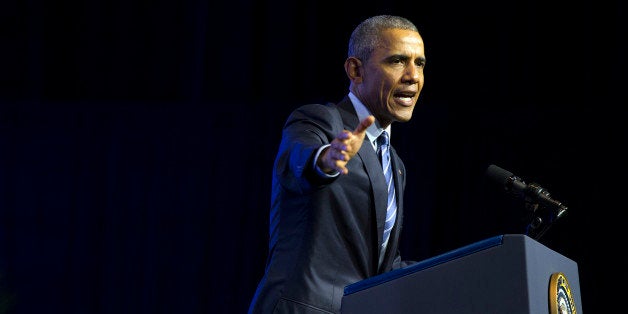 This week, President Obama granted clemency to 46 people serving life in federal prison for non-violent offenses. This is a welcome first step in correcting the impact of overly harsh federal prison sentences.
Unfortunately, even that first step is limited. President Obama can only consider clemency petitions from people serving federal time for federal crimes.
And while there are indeed thousands of people in federal prisons serving stunningly long sentences for non-violent federal offenses, there are far more people serving stunningly long sentences for non-violent offenses in state prison systems.
President Obama has no authority to review those state prison terms, even if he wanted to.
But someone should.
According to a recent ACLU report, there are over 3,278 people serving life without parole sentences for non-violent crimes "as petty as siphoning gasoline from an 18-wheeler, shoplifting three belts, breaking into a parked car and stealing a woman's bagged lunch, or possessing a bottle cap smeared with heroin residue."
Think about that for just a minute: a sentence of life without any possibility of release — ever — for shoplifting.
And the President of the United States is powerless to fix that.
In fact, the only person who can correct those extremely harsh sentences through the clemency process is the Governor of each individual state.
I just can't see would-be Presidential candidates Governor Chris Christie (N.J.) or Governor John Kasich (Ohio) or Governor Bobby Jindal (La.) stepping up mid-campaign to broadly use their executive clemency powers to commute the lengthy sentences of non-violent offenders in their respective states.
Even though there are plenty of people worthy of sentence reductions in those states.
The reason for their reticence, of course, is politics. No politician gets boosted in the polls by exercising clemency powers. But a clemency grant that goes wrong can be politically devastating.
Think Governor Michael Dukakis and Willie Horton.
But I'd rather think about what serves the public good. Our criminal justice system should be guided by a reasonable punishment philosophy — not electoral politics. Punishment should be proportionate to the crime, and no more severe than is necessary. Yet, proportionality and reasonableness have taken a backseat to the frenzy of tough-on-crime rhetoric.
Three-strikes laws, mandatory minimums, habitual offender acts and truth-in-sentencing policies produced longer and harsher sentences. The result is that tens of thousands of people will spend their entire lives in state prisons for crimes that are just not worth it. Not from a financial perspective where the cost of corrections eats up enormous swaths of state budgets, and not from a social perspective where entire communities — particularly poor communities and communities of color — have been destroyed by inhumane sentencing policies.
So, to all the governors out there, follow the president's lead. Start robustly using your executive clemency powers to reduce your state's prison population. Release those non-violent offenders who don't need to be serving their entire natural lives in prison.
And President Obama — keep up the good clemency work. There's many more worthy applicants for clemency to be considered.